Note: after adding an item to your cart, click here to continue shopping.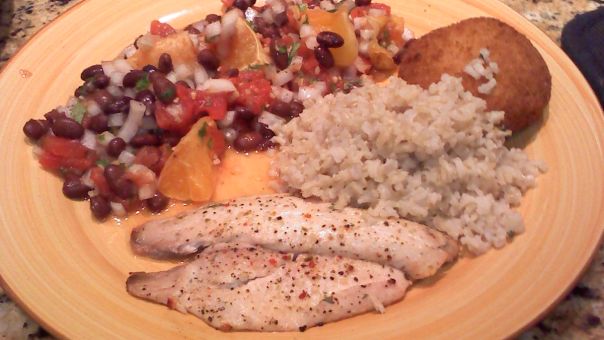 INGREDIENTS
4

teaspoons minced

garlic

, divided

6

(5 ounce) tilapia fillets

2

oranges

, peeled, seeded, coarsely chopped

1

⁄

4

teaspoon

cayenne pepper



DIRECTIONS

For the tilapia marinade, combine lime juice, 1 tablespoon olive oil, 2 tablespoons cilantro, 1 teaspoon garlic, 1/2 teaspoon salt, and sugar in a shallow dish.
Add tilapia and marinate 15 minutes, turning once.
To prepare the bean and rice mixture, cook the rice according to package and keep warm while the tilapia is marinating.
Preheat oven to 400 degrees. In a large, skillet or saucepan, heat 2 tablespoons olive oil on medium heat. Add remaining garlic and onions; sauté until translucent, about 5 minutes, stirring. Add 2 tablespoons cilantro, oranges, tomatoes, beans, oregano, 1 teaspoon salt, pepper, and cayenne.
Cook, uncovered, until hot, 7 to 8 minutes, stirring occasionally.
Transfer hot rice to a 9 by 13 inch baking dish. Spoon the bean mixture on top of rice and gently blend. Slightly overlap tilapia fillets on top and scrape marinade over fillets.
Bake 16 to 20 minutes.


Recipe courtesy of SouthernBell2627 on Food.com


https://www.food.com/recipe/costa-rican-tilapia-15...